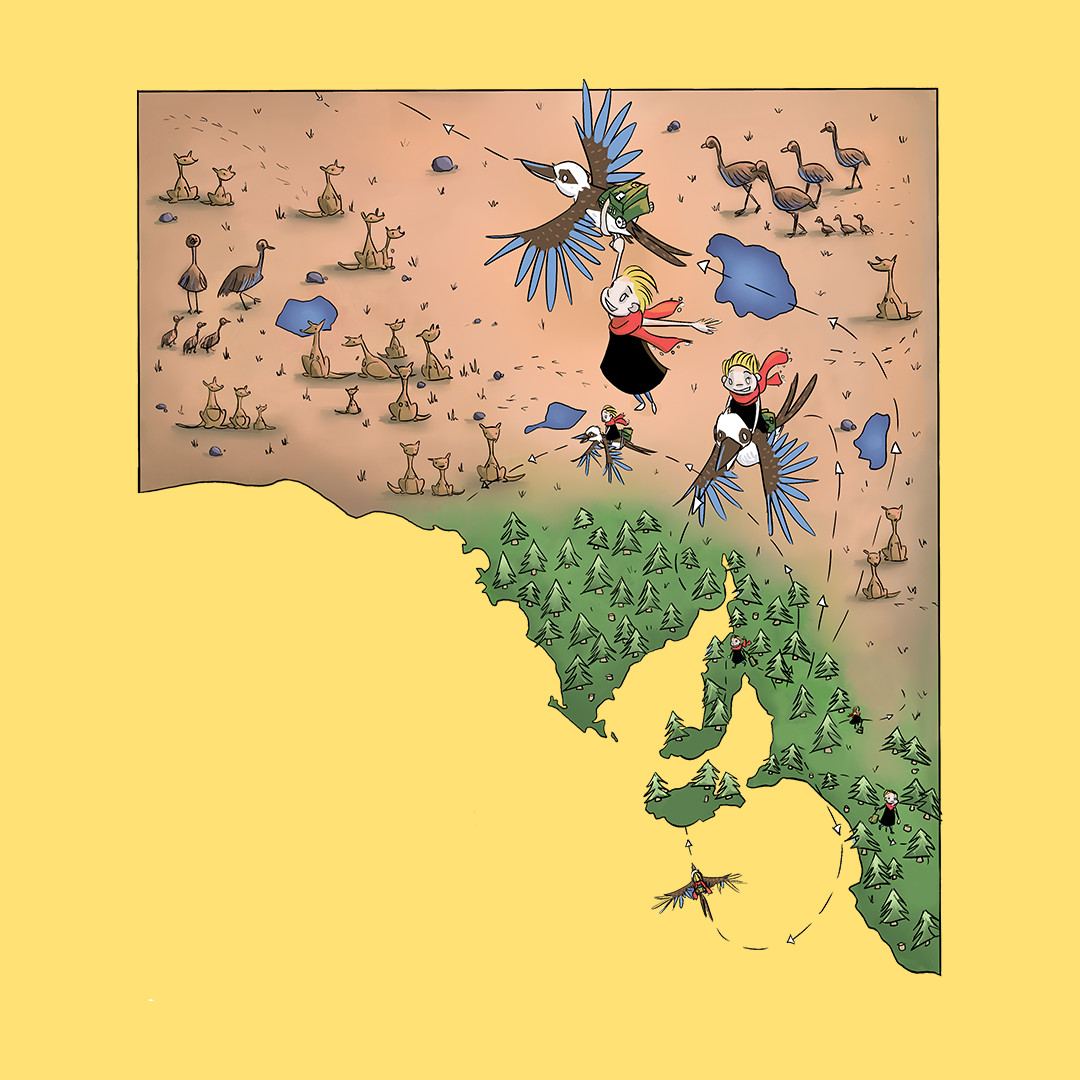 The Commissioner's Student Voice Postcards initiative is a child-focused way of connecting with South Australian children to find out about their lives at a State level.
Below are some snapshot summaries for 2019 and 2020 divided into key regions across South Australia, reflecting what children from these regions have told the Commissioner via their postcard responses.
Read more detailed summaries by downloading the full reports here.
Map Illustration by Peter Chiong.
Adelaide East and South
(click the dates for more info)
2019
In 2019, the children living in the eastern and southern metropolitan suburbs of Adelaide told the Commissioner the best thing about being a kid was being active, creative, and being with friends and family. They also said they enjoyed being with their teachers and with their pets. Having an opportunity to talk and hang out with people their own age was important to them. One 12-year-old from the southern suburbs said he enjoys 'spending time with family/friends and pets and also loves to listen to music and go camping'. Children care very strongly about the environment and said that spending time playing outside in nature and with animals is very important to them. They like to ride their bikes and build things, go on adventures, and explore, go fishing, and camping. School is a safe space and is also very important to them. They wanted to get a good job, be a good person, learn and do well, and see the world. Some children were worried about how many wars there will be in the future, and about those who are doing it tough. Others were focused on what their relationships with peers are like and about tests, due dates, and the volume of homework they are expected to complete.
2020
In 2020, children living in the southern and eastern regions of Adelaide said they liked playing, having fun, and being healthy, active, and creative. They also liked learning new things about the world and being free from responsibilities like paying bills and taxes. They like playing online with their friends and getting messy. They appreciate that childhood is a relatively carefree time to explore what they would like to be. They described being grateful for what they have, particularly a home, education, free meals, easy access to the Internet, a loving family and friends, and supportive teachers. They were aware of the need to spend less time on laptops and in front of screens. Some children were concerned that adults 'don't tell them things' and 'think they own the world' and think kids are 'incapable of making decisions.' They also said some adults don't listen, and that they have too tough a schedule. Some said they felt uncertain about the future and that 'climate change will be worse.' Others wanted to see more spaces built for kids with opportunities for them to have input into their design; more playgrounds, pools, and other places that are fun, safe, and free.
Adelaide West and North
(click the dates for more info)
2019
In 2019, primary school children living in the western and northern metropolitan suburbs of Adelaide said they valued kindness and doing the right thing to ensure everyone can afford a decent house, education, and transport. Sport is very important to this age group, but they also like doing their own drawings, making up their own games and dances, and singing songs. They said playing, watching and learning online through video games and YouTube were activities they enjoy. They had many ideas for ways to improve the environment including reducing plastic waste and addressing pollution and deforestation to minimise climate change. They had strong empathy for the wellbeing of others and wanted those who are doing it tough to be supported. One student suggested 'reading to Receptions would help them read and learn words'. Another wanted to 'play with a friend and do art, health and science'. Some wrote about holidays and travel as a way to connect with family members who live far away. They worry about their parents and the cost of things and want to make wages across different jobs more equal. They also want to make their families proud of them. They suggested more medical research to cure diseases like cancer, promote healthy lifestyles, and do something about drugs, including banning cigarettes should be done and mental health was just as important as physical health for many children, with plans for 'spreading laughter and happiness for everyone across the state', and putting on 'more wellbeing camps around SA' one of the many suggestions they had.
2020
In 2020, like their counterparts in other parts of Adelaide, the children living in the western and northern regions of Adelaide said the best thing about being a kid was having the freedom to be active and creative. Many chose to draw pictures of their favourite YouTube channels, toys, or online games. They were concerned about many of the same things too, including adults in their lives not having enough money to pay bills for food and housing. They were concerned about barriers to accessing public transport and the Internet, and were aware of the complex reality of their digital lives, including how important it is to spend less time in front of screens. They suggested bringing more entertainment in the way of child-friendly festivals and events to their region. They wanted adults to make it easier to talk about how they are feeling. In terms of jobs, many have aspirations to work with technology. Being a YouTuber was particularly popular, as was working as a coder, game developer or animator, social media influencer, 'or anything to do with computers'.  Some wrote about having a positive impact on other people, animals, and the environment by working as teachers, doctors, nurses, psychologists or surgeons. Others wanted to 'make their own business' or 'travel the world'.
Adelaide Hills
(click the dates for more info)
2019
In 2019, the children of the Adelaide Hills told us that they care very strongly about the environment and that spending time playing outside in nature and with animals is very important to them. Many of their ideas for change centred on sports opportunities, including wanting more girls' football teams and school improvements that allowed pets to be at school. They were also interested in more fun outdoor activities being offered at their school such as participating in a 'colour run'.
2020
In 2020, children in the Adelaide Hills said they enjoy having the freedom and energy to play with their friends and family, particularly outdoors. They wanted more opportunities for children to participate in sport, dance, and other fun, active and creative activities, as well as seeing some of the 'city entertainment travel to the hills'. Children want barriers to the above to be addressed, particularly making transport more regular and affordable. They also wanted to ensure technology did not impact on their opportunities to spend time playing outside in nature. They care deeply for the environment and wrote about the impact climate change and technology is having on their future. Some children reflected on how their communities have already been impacted by natural disasters, and their ideas for change included 'helping kids whose home got burned in the fires'.  They wrote about their excitement to learn about the world and make friends from different cultures. They also wrote about their concerns around the kinds of job opportunities that will be available to them and how their move to high school will impact their friendships. Their top job aspirations were reflected in their passion for caring for the environment and for working with animals, with many writing about living, rescuing, or working 'with lots of animals' and becoming a vet, doctor, or scientist.
Eyre and Western
(click the dates for more info)
2019
In 2019, children from Eyre Peninsula and South Australia's Western Region said that hanging out with friends and family is their favourite thing to do. Many children shared aspirations to help others, particularly farmers in drought, small business owners, children separated from their families, homeless people, and those struggling financially. They worried about pets without homes, and animals feeling the effects of pollution and bushfires. The top dream jobs for children in this area were builders, farmers, mechanics, and miners.
2020
In 2020, they told us how important it was for them to be outside in nature, swimming, going to the beach, climbing trees, and looking after the environment. Stopping pollution and trying to stop fires were important issues, as was managing the 'cost of things' with children eager to make school fees, sport, toys and other places cheaper or free. Job aspirations ranged from zookeeping and tuna farming to being an artist, pianist, doctor, nurse, video game tester or worker at Kmart, Foodland, or KFC. Playing professional football was another popular choice, with one 11-year-old girl wanting to 'make a port power women's team'.
Barossa, Light and Lower North
(click the dates for more info)
2019
In 2019, more than children from other regions, children in the Barossa, Light and Lower North regions showed great concern for people less fortunate than themselves and for the overall health of their community. Their visions for a healthy community focused on greater connections to facilities, the Internet and public transport. This included making roads safer and reducing traffic around congested areas and schools, providing better public transport options and easy access to faster wifi. They also wanted access to more sporting clubs and improved sporting facilities with more sporting options. They said better resources are needed for schools 'so that education sets them up well to follow their hopes and dreams'.
2020
In 2020, children from the Barossa, Light and Lower North region wrote about helping people as nurses, teachers, mechanics, police officers and firefighters. They also wanted to help animals as vets, zoologists, animal protectors and rangers. Being a gamer, game developer, Twitch and Youtube streamer were also popular job choices, combining digital skills with their interest to help people. Others wanted to 'make a difference in the agricultural world' and wrote about how kids would benefit from being taught about 'agriculture, and how things were made' along with other practical life skills at school.  Other ideas they had for making things better for kids included bringing more fun activities and places to the region, building safer roads, and providing better transport. They also want to stop bullying, and make sure everyone is being 'treated fairly' and receiving the help they need.
Far North
(click the dates for more info)
2019
In 2019, children living in the Far North told us that the health and safety of their loved ones was what mattered most to them. They liked to hang out with friends and family but because many of them live far away, many children wrote about the importance of technology as a fun way to connect with those they care about most. Spending time online was very popular in this region, with many children aspiring to be Youtubers and wanting to own the latest tech. Children in this region had less interest in leaving their communities, and shared practical ideas on ways to make their school and community more fun and active, including having more sports programs at schools and more shops.
2020
In 2020, children in schools across the Far North were focused on  'getting a good education', 'exploring life' and 'being cared for'. They said 'having all sorts of sporting opportunities' were some of the best things about being a kid and that the pressure they feel to do well at school was the worst thing. They wanted to be able to make their own decisions and said they felt a lack of respect from adults, particularly when it came to expressing their 'opinions' and having 'freedom and privacy'.   Drought was a big concern for children living in the Far North, with many wanting to 'get it to rain for the kids' and 'make water lines for farms'. They placed importance on making sure everyone had enough money to go to school and wanted changes that included improving the 'bullying management system', 'providing more music teachers' and offering more STEM subjects.  When they finish school Far North kids were interested in careers that included running a small business, being in the army, becoming an astronaut or paramedic, 'helping other kids with their mental health' or 'going to university after working on the station'.
Fleurieu and Kangaroo Island
(click the dates for more info)
2019
In 2019, children from schools across the Fleurieu and Kangaroo Island identified transport as a key issue, with many wanting it to be easier to 'get around' within their own communities as well as between their communities and other regions. This included transport into Adelaide from Fleurieu and to the mainland from Kangaroo Island. Their ideas for better public transport reflected a need to provide options for people without cars, as well as environmentally friendly alternatives. Children in this region are very conscious of the cost of living and financial issues, with many writing about lowering the cost of bills and rent and reducing taxes. They were also worried about a lack of jobs in the region and what this meant for their own job aspirations.
2020
In 2020, children in schools across the Fleurieu and Kangaroo Island wrote about helping the environment, animals, and people, particularly those affected by the bushfires or experiencing any kind of disadvantage. They value the time they get to spend outside, and want more excursions, activities, 'entertainment places' and 'stuff that's cheaper for kids to have fun'. They also thought that improving roads and internet access, giving kids school uniforms and more of a say, and making it 'easier for people to play sport' would make things better for kids by helping them 'get around and be healthy, confident and connected'.  While some about travelling around Australia or the world, many had post-school plans closely tied to their family and region. Running the farm, working in the family business, or with animals – as a zoologist in an animal sanctuary – or as a vet, horse, or dog trainer, were popular ideas. Children living in this region said 'having a good imagination' was one of the best things about being a kid. Many were curious about the lives of other children their age, with one 10 year old asking for 'all the schools to have a swap day so you can see how other kids lurne [learn]'.
Murray and Mallee
(click the dates for more info)
2019
Children from the Murray and Mallee wrote about the importance of the role they played in their families and communities, which included helping out on their farms and around the house. They also described giving to their communities and to charity, particularly through volunteering. The biggest concern for many children in this region was drought, with many fearing for farmers and their livelihoods, or that the Murray River would run out of water and there wouldn't be enough for the state. They were also concerned about bushfires affecting people and animals in their region and their ideas for creating more exciting communities involved building local swimming pools, a trampoline park, an inflatable world, ten pin bowling alleys, skate park and ice-skating rink. Others suggested bringing an AFL game to the region, and having more sporting events at school, including 'more SAPSASA events and running carnivals'.
2020
For children attending schools across the Murray and Mallee region, the 'best things about being a kid' included having fun and 'knowing that I have great friends'. They also said the liked having space around for the things they love doing, such as 'horse riding' and 'motorbike riding', 'kicking the footy' and 'going swimming and fishing'. Some of the 'worst' things were not being able to drive or make their own choices. They wanted to have 'more things to do in public' , create more dog parks, and build an 'amusement park in the country' as well as 'keep kids safe' and 'teach people to stop littering'. Fairness and kindness came up a lot with many saying they wanted to give money to the poor so kids can 'have a life' and do anything 'no matter how much money they have'.  They also wrote about 'speaking up for kids' and allowing kids to vote and finding out what help other kids need to have a good life, particularly children with disability. Some wanted improved transport for kids who live far away from school, and others wanted 'funner ways to learn instead of tests'.  Working with animals and farming were popular post-school plans along with professional sports player or sports physiotherapist, police officer, hairdresser, teacher, or vet being popular job aspirations. Many also wanted to 'have a YouTube channel' alongside their 'day job' as a chef, business owner, tradie, or builder!
Limestone Coast
(click the dates for more info)
2019
Children on the Limestone Coast wrote about all sorts of pets and animals that they like to play with, including riding horses, leading heifers, training dogs and playing with guinea pigs, cows, chickens and cats. Many of the jobs that children wrote about reflected their interest in animals, with many children aspiring to be vets, dog trainers, horse trainers, professional horse riders and animal foster carers. Children were worried about bushfires in their communities, and about their family members and friends who volunteer for the Country Fire Service. Their less immediate concerns related to growing up, what their high school will be like, and whether they will be able to find jobs and afford the basics. As leaders, their visions involved addressing unemployment and the affordability of school to ensure everyone's right to an education.
2020
In 2020, children living in the Limestone Coast region said the best thing about being a kid is having freedom to play, having friends who live nearby, and having time to 'think about things' so you can work out 'who you want to be'.  Children wanted more of a say in what their communities do, particularly in relation to what 'playgrounds and pools should be like'. They wanted facilities and activities that would encourage more kids to get outside to 'get kids off devices'. Yet 'doing something around electronics' was also a popular post-school aspiration.  Even though one of the best things about being a kid was 'not having to work or worry about work', some children wanted adults to 'let kids get more jobs like walking dogs'. Others were looking forward to being able to get a car or motorbike, or 'drive the yoot [ute] off road'.  Some were worried about their high school being in another region. Beyond school, many were keen to follow in the footsteps of their older family members' by running the farm or being a shearer. Sporting careers were also popular with requests for more 'opportunities' and more 'help to pursue dreams'. One 11-year-old suggested a 'country day for all of us kids to get outside with the cattle and sheep' would be a good idea.
Yorke and Mid North
(click the dates for more info)
2019
In 2009, children in schools across Yorke Peninsula and the Mid North region wrote about following their dreams, mastering skills, and doing well at school. For some this was about scholarships to schools in Adelaide or improving their sporting skills and excelling in competitions. Many children aspired to being professional athletes. Others had smaller goals, like 'being able to backflip' or 'be really fast'. Working with animals or working as teachers were popular dream jobs, as was working in the creative arts, in a trade, or doing manual labour. The health and safety of their families, friends and communities was a significant concern for these children. They wrote about supporting hospitals and the Royal Flying Doctor Service, as well as helping children to live healthy lives with better support for mental health. For many this meant banning cigarettes and drugs. Others prioritised upgrading roads in order to 'avoid the number of people and animals that get hit by cars'.
2020
In 2020, children in schools across the Yorke and Mid North region treasure having time to play. They love having 'water fights' and 'fun in mud' and being 'out on the farm' without having 'pay for things' or 'cook dinner'. Being 'bossed around' and 'told off', 'not getting to drive a car on the roads' and 'worrying about the planet' were some of the worst things they named about being a kid. They said giving kids more freedom and more of a say 'in parliament' would make their lives better, as well as having more subject choices and library books. They said finding a friend 'for every kid, or being their friend if they don't have one', 'giving clothes and food to anyone who can't afford it', and 'making toys and electronics cheaper' are all important. They also wanted to see their communities build better playgrounds, keep things clean, stop bullying, raise money to 'buy cool things' for schools, and make homework 'more like video games'. Popular job aspirations ranged from being an astronaut, scientist, or paramedic, to being a diesel mechanic, builder, and mountain biker. Like many other regions around SA, many children aspire to becoming YouTubers, vets, farmers, trainers, or 'horse girls'.
Give your students a voice!
Downloadable Postcard Pack available from the start
of Term 3.
Acknowledgement of Country
We respectfully acknowledge and celebrate the Traditional Owners of the lands throughout South Australia and we pay our respects to their Elders –  and to past, present and future generations of their children and young people.