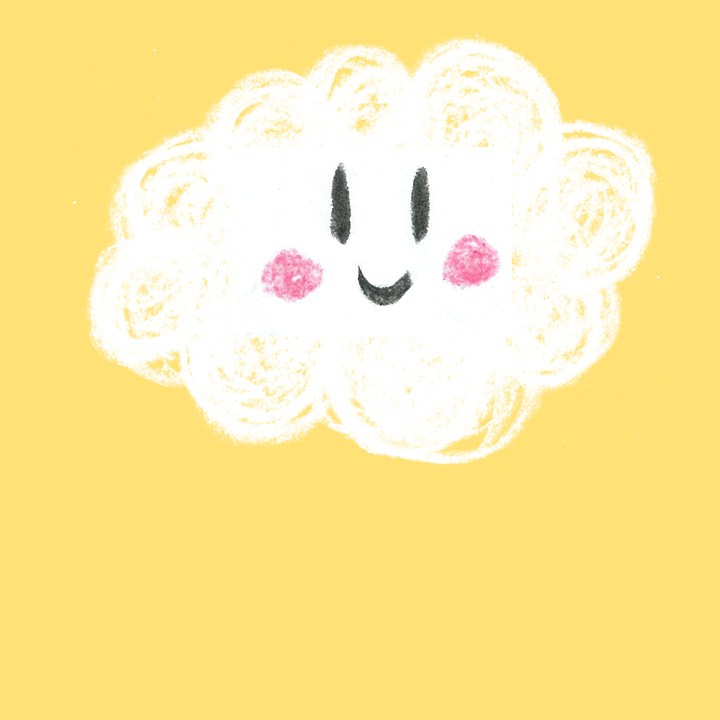 The Commissioner's annual Student Voice Postcard initiative is one simple, yet effective way for children to know that someone is listening. From the added messages children write on their postcards, to the occasional messages of support received from educators, the Commissioner knows it is an approach that works, and that children value the affirmation their views and perspectives receive.
The reports the Commissioner writes summarise what children have told her and inform leaders and service providers about what children have said will make their lives better. This helps with service planning. If services are co-designed with children in this way they're much more likely to benefit from them. It also helps children feel valued, listened to, understood, and respected by adults.
Thank You for Your Postcards!
Follow this link to the Students Voice Postcard Feedback Presentation for Children – a short 4-minute PowerPoint that has been specially prepared for National Children's Week to be played at a school assembly and read out aloud to Primary School Students by your school Principal or Classroom Teacher.  It provides students with  feedback from the Commissioner on her Student Voice Postcard initiative, which many of your students are participating in annually.
Going into its third year, their responses can be used to help shape future policy and set agenda priorities that incorporate their views and ideas, along with their wants and needs, as identified by them. Thank you for supporting your students to participate. If you haven't already done so I hope to receive a postcard pack from you school before the end of Term 4.
The Things That Matter 2 Report (2020)
Views of 8-12 year olds on life, school and community
This second report reflects responses from 8,379 South Australian children who completed postcards in 2020 – a year like no other. Children value their freedom to play, have fun, and be active and creative. They recognise this will change as they get older and take on 'adults responsibilities' working, providing for others, and paying bills and taxes. Children want everyone, no matter where they live and who they are, to have a home, a voice, kind friends and family, a good education, a rewarding job, and enough money to afford healthcare, food, transport, education and housing. While many want to travel, others have aspirations closely tied to their home region. Children care about and are affected by issues both on a local and global scale. Helping animals and the environment is just as important as helping other people.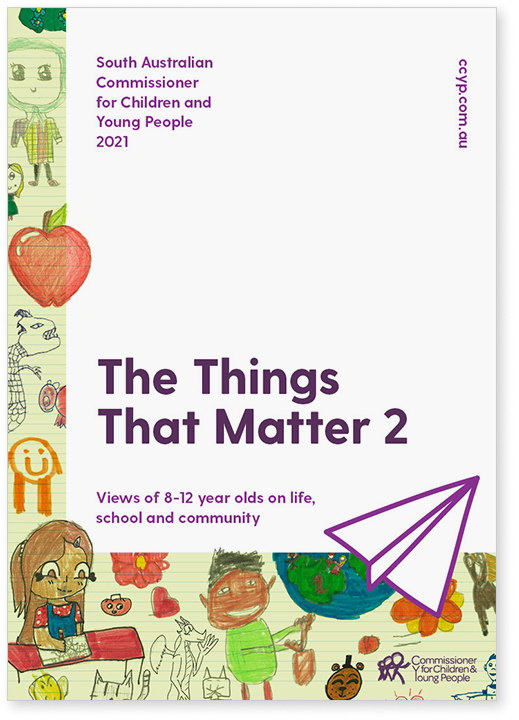 The Job Aspirations of 8 – 12 year olds
In 2019, one of the questions children were asked to answer was about their aspirations for the future, and what jobs or careers they would like to pursue.
Research has found that career aspirations are formed early on, with a majority of seven year olds able to provide a considered answer to the question of what they would like to be when they grow up. This spotlight report provides a snapshot view of what SA children aged 8 – 12 years told us they want to do most in the future:
Get a good Job — Be a good person — Learn and do well — See the world
It should be of great interest to anyone interested in the future of this State, that when our children speak about their hopes, dreams, and aspirations, getting a good job is at the top of their list. Download the snapshot report to find out more.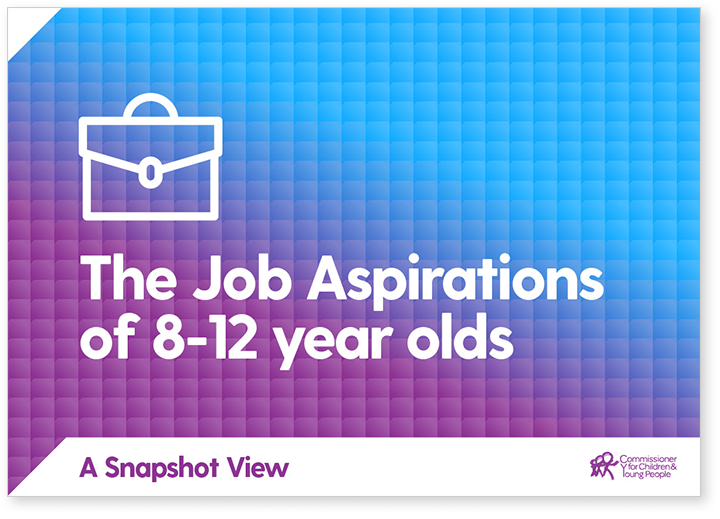 The Things That Matter Report (2019)
Views of 8-12 year olds on life, school and community
The first report reflects responses from 8,429 South Australian children who completed postcards in 2019 – the inaugural year of the initiative. It reveals that above all children value kindness, fairness and equality in leaders, along with doing the right thing and ensuring 'everyone' regardless of age or background, can afford healthcare, education, housing and transport. While most children are doing well, almost all children wrote about something they would like to see changed in their own community, school, and family, or in the world. Children want to learn, play, do well and lead happy, healthy, active, and creative lives. They want this for all other people, as well as for themselves.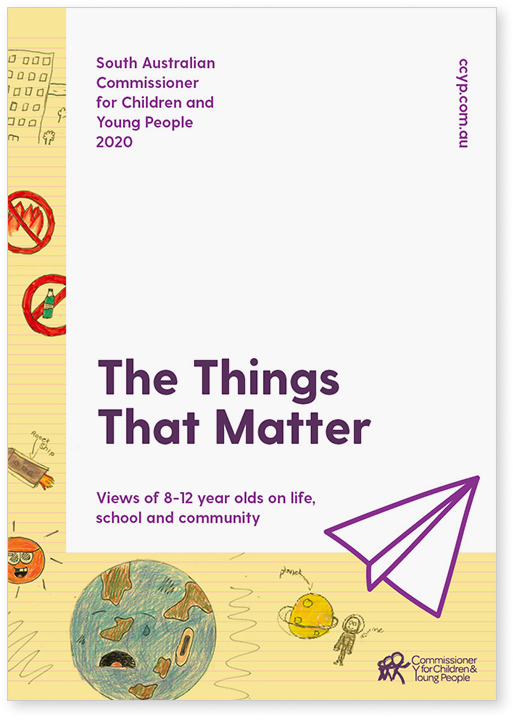 Give your students a voice!
Acknowledgement of Country
We respectfully acknowledge and celebrate the Traditional Owners of the lands throughout South Australia and we pay our respects to their Elders –  and to past, present and future generations of their children and young people.